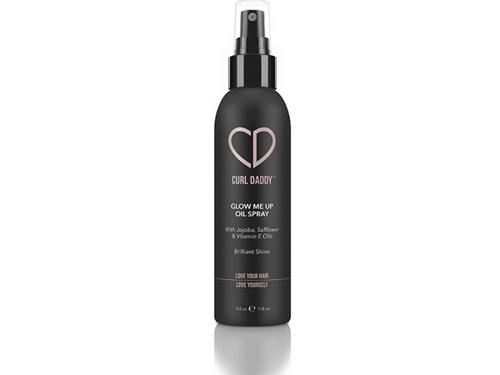 Glow Me Up Oil Spray™ 4 oz
GLOW ME UP OIL SPRAY 4 oz

With Jojoba & Vitamin E Oils
Brilliant Shine

DESCRIPTION
Creates an instant shine on dry or dull hair without weighing it down. Smooths frizzy, fried ends, and dries without a trace. Perfect for all hair textures. UV & thermal protection. No SD alcohol, parabens or sodium chloride. Perfect product for all protective styles.

DIRECTIONS
Use on wet or dry hair before or after styling. Hold bottle 10 to 12 inches from hair.
Depress atomizer with quick uniform strokes for desired gloss.
Respray where needed to restore shine.

Add to cart
CURL DADDY IS A afro-latino OWNED BUSINESS.

OUR BRAND MESSAGE IS TO LOVE YOUR HAIR BUT MOST IMPORTANTLY LOVE YOURSELF SINCE 60% OF WHAT YOU apply On YOURself is absorbed into your system.

EVERY PRODUCT REPRESENTS A STEP NECESSARY TO HELP MANAGe, protect & care for YOUR curly hair.

Is also a reminder of the process you need to welcome to keep your heart full of Love:

the only thing that will prevail at the end of it all.

Curl Daddy Haircare Collection consist of formulas that are:

Vegan

No Sulfates, No Parabens, No Phthalates.

Cruelty Free

Safe for colored, straightened and chemically treated hair

UV / Thermal Protection

Promotes Scalp Health & Hair Growth

Great for all protective hairstyles.

MADE IN USA
×
Terms & Conditions
DISCLAIMER

Every effort has been made to accurately represent this product and its potential.

There is no guarantee that you will earn any money using the techniques and ideas in these materials. Examples in these materials are not to be interpreted as a promise or guarantee of earnings. Earning potential is entirely dependent on the person using our product, ideas and techniques. We do not position this product as a "get rich scheme."

Any claims made of actual earnings or examples of actual results can be verified upon request. Your level of success in attaining the results claimed in our materials depends on the time you devote to the program, ideas and techniques mentioned, your finances, knowledge and various skills. Since these factors differ according to individuals, we cannot guarantee your success or income level. Nor are we responsible for any of your actions.

Our programs take a lot of work and discipline just like any worthwhile endeavor or professional continuing education program.

REFUND

In the state of New Jersey, where Curl Daddy and its subsidiaries, divisions and affiliates are headquartered, there is no right to cancel contracts or purchase agreements. Whether you can receive a refund is dependent on the retailer's return and refund policies.

As a customer you are responsible for understanding this refund policy upon purchasing any product or services at our website(s). However, we understand that situations may arise in which you feel as though you it is possible you did not make the correct decision. In these cases we offer a buyer's remorse option which allows a money back guarantee only during the first 24 hours after money has been exchanged for a product, good or service. In order to benefit from this policy you must contact Curl Daddy, its subsidiaries, divisions and affiliates during the first 24 hours after the first payment of a product, good or service and the receipt or proof of purchase.

By making a payment you have agreed to our refund policy.

×
Privacy Policy
Privacy Policy

Last updated: January 6, 2020

Curl Daddy ("us", "we", or "our") operates http://www.curldaddy.com (the "Site"). This page informs you of our policies regarding the collection, use and disclosure of Personal Information we receive from users of the Site.

We use your Personal Information only for providing and improving the Site. By using the Site, you agree to the collection and use of information in accordance with this policy.

Information Collection And Use

While using our Site, we may ask you to provide us with certain personally identifiable information that can be used to contact or identify you. Personally identifiable information may include, but is not limited to your name ("Personal Information").

Log Data

Like many site operators, we collect information that your browser sends whenever you visit our Site ("Log Data").

This Log Data may include information such as your computer's Internet Protocol ("IP") address, browser type, browser version, the pages of our Site that you visit, the time and date of your visit, the time spent on those pages and other statistics.

In addition, we may use third party services such as Google Analytics that collect, monitor and analyze this site.

Communications

We may use your Personal Information to contact you with newsletters, marketing or promotional materials and other information that helps us reach you.

Cookies

Cookies are files with small amount of data, which may include an anonymous unique identifier. Cookies are sent to your browser from a web site and stored on your computer's hard drive.

Like many sites, we use "cookies" to collect information. You can instruct your browser to refuse all cookies or to indicate when a cookie is being sent. However, if you do not accept cookies, you may not be able to use some portions of our Site.

Security

The security of your Personal Information is important to us, but remember that no method of transmission over the Internet, or method of electronic storage, is 100% secure. While we strive to use commercially acceptable means to protect your Personal Information, we cannot guarantee its absolute security.

Changes To This Privacy Policy

This Privacy Policy is effective as of January 6, 2020 and will remain in effect except with respect to any changes in its provisions in the future, which will be in effect immediately after being posted on this page.

We reserve the right to update or change our Privacy Policy at any time and you should check this Privacy Policy periodically. Your continued use of the Service after we post any modifications to the Privacy Policy on this page will constitute your acknowledgment of the modifications and your consent to abide and be bound by the modified Privacy Policy.

If we make any material changes to this Privacy Policy, we will notify you either through the email address you have provided us, or by placing a prominent notice on our website.

Contact Us

If you have any questions about this Privacy Policy, please contact us.